The Merchant Marine Industry
We have been serving clients in this industry for decades. We are aware of the challenges, demands, & developments. We are constantly talking to seamen/sailors/seafarers (Moller Maersk), shipping agents, importers, exporters, freight forwarders, truckers, warehouse operators, and port officials.
We prepare tax returns for seafarers who are working intrastate and interstate on ships, barges, and tug boats; and seamen sailing in international and foreign waters and docking in foreign ports. We also handle their business operations in other industries. Seamen who would like us to prepare their tax returns must provide us with a copy of last year's tax return, voyage schedules for all ships, certificates of discharge, forms W2 and 1099; and other paperwork. They must call for details if they own real estate (private home or rental property) and/or businesses.
Industry Coursework
Intra-state & inter-state commerce
International trades, Sales tax & VAT
Trade Unions, Maritime, & Mercantile Laws
Employment taxes & International Taxation
Seamen benefits, expenses, reimbursements, & deductions
Property & Casualty (General Average/Maritime) Insurance
Choice of ships, cargo, routes, ports, agencies, & storage
Ship registration, emigration, sailors nationality, & tax home
Manufacturing, Cost Accounting, & Transfer pricing
Consignment, freight forwarders, landing, & warehousing
Customs declaration, clearance, commission agents, & distribution
Banks & Foreign Exchange rules
Overview
All ocean-going ships (tankers, tramps, liners, bulks, containers, etc.) have to be covered by marine insurance policies because ocean disaster is an ever-present hazard. Cargo onboard a ship is listed on the ship's manifest and may be accepted onboard the ship as FOB, C&F, or CIF. Several documents are attached to a shipment of cargo. They are export license or the shipper's export declaration for U.S. export shipments valued in excess of $1,000, commercial invoice accompanied by a certificate of origin, packing list, consular invoice, insurance policy if the cargo is shipped CIF, ocean bill of landing, inspection certificates, dock/warehouse receipt, draft, letter of credit, letter of indemnity, and bill of exchange. The law that relates to a shipment by sea is called maritime law and the law that relates to the commercial transaction is called mercantile law.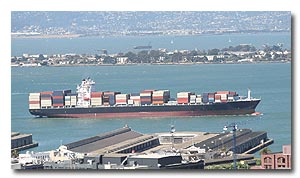 Income
Freight Onboard
Interline Agreement
Others
Expenses
Fuel
Captain and Crew
Insurance & Bond
Agents
Longshoremen
Freight Forwarders
Ports of (call, loading, & refuge)
Rental Equipment
Dry Dock
Storage
Tug, Tow, & Pilot
Waste Disposal
Cleaning & Maintenance
Legal & Accounting
Secretarial
Kitchen Equipment
Furniture & Fixtures
Others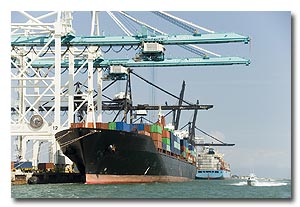 The world's biggest ocean shippers, Greek shipper, DryShips, Inc., Copenhagen-based Moller Maersk, Geneva-based Mediterranean Shipping Co., and Marseille-based CMA-CGM have paid $50 million for each new container ship and $100 million for each new dry-bulk ship by placing their order several years ahead of time. The escalation in shipping prices has taken some companies by surprise. Corus Group, a subsidiary of Tata Steel, Ltd., India, paid $135 million to lease a seven-year old bulk. The average price for renting a ship to carry raw materials from Brazil to China has nearly tripled from $65,000 a day in 2007 to $180,000 a day in 2008, according to the Baltic Exchange Dry Index, a widely used indicator of worldwide ocean freight rates for bulk commodities. The cost of shipping raw materials has also reached an all-time high. The main reason cited for the escalation in commodity shipping rates is the shortage of bulk ships. The shortage stems from the increasing volume of global trade as economic growth explodes in China, India, and other developing countries. However, when ships are available, inadequate port facilities may cause delay and increase the cost of shipments. In some ports, ships are waiting their turn offshore for up to two weeks to load or unload, according to the Global Ports Congestion Index, which tracks wait times worldwide. The price for renting oil tankers and container ships that transport finished goods, such as electronic equipment, is low because those ships are not in short supply.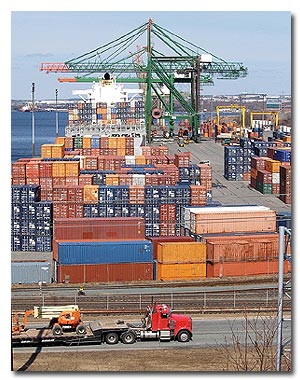 Freight forwarders are an integral part of the exporting business. Virtually all shippers depend on them for varying degrees of service. They are regulated and certified by the FMC, which regularly audits them to ensure they follow the rules for licensing and bonding. Container ships sailing from northern or southern China can take 12-16 days to reach the ports of Los Angeles and Long Beach, which handle 66% of west coast containers. A shipment from Asia via the Maru Shipping Line (trans-Pacific) to a consignee in the Caribbean might be transshipped to the Atlantic Container Lines or the Saguenay Lines for delivery to the island of destination, legally referred to as the country of consignment, where the shipment is landed, cleared at the port/customs, and transported to the consignee's warehouse for inventory management and sales distribution. Some ships operate as tramps during off-peak season when cargo is in a slump. They do not have prescheduled ports of call. They operate on a tight profit margin and will enter any port to deliver and pick up cargo under inducement. Because of the trade imbalance between the U.S.A. and China, ships delivering cargo to the U.S.A. will sometimes return to China empty. One U.S. firm saw that as a great opportunity to ship products by sea to its stores in China. About 60% of container ships traveling from Europe to Asia/China are empty, reflecting Europe's trade deficit/imbalance with China, which was over $200 billion in 2007. Ocean-going ships also have their share of problems. They are sued for oil spills and illegal waste disposal. The maximum fine for dumping untreated ballast water in regions around the Great Lakes is $25,000. In 2008, pirates seized two ships, including a Saudi Arabian oil tanker, off the coast of Somalia as insurers declared the Gulf of Aden a "war-risk" zone. The Indian Navy warship, INS Tabar, made headlines around the world after it foiled a piracy attempt and sank a pirate ship while escorting the Indian commercial vessel, MV Jag Arnav, off the coast of Somalia as governments and shippers sparred over who should bear responsibility for keeping pirates at bay. China dispatched warships to join an international effort to battle piracy off the coast of Somalia after a Chinese cargo ship fought off an attempted hijacking in the Gulf of Aden.
Clemson (Clem) Barry advises and prepares taxes for clients in the trucking, airline, and merchant marine industries. He is also an insurance broker. He has worked in the cargo industry for many years and he has turned around several companies and made them profitable. He started out doing custom brokerage for traders/commission agents that represent manufacturers in the Caribbean, U.S.A., Canada, Japan, and the UK. He has gained valuable experience in transfer pricing, warehousing and warehouse operations, inventory and quality control, marketing and sales, distribution, banking, insurance, and real estate. He graduated from Travel Institute in 1981.
Click here for "Merchant Mariner's - Questions & Answers"
Click here for "The Airline Industry"
Click here for "The Trucking Industry"
Click here for "The Entertainment Industry"