The Trucking Industry & Passenger Vehicles


"The big rigs keep the economy rolling"

What would you like us to do for you today?
Specialties
Transportation Education:
Air, Road, Rail & Sea
"Travel Institute" (NY)
"Brooke Transportation Training Solutions" (TX)
M.S. Taxation and Insurance Broker
Hands-On Experience:
Taxation; Insurance; logistics & compliance issues; Revenue Acceleration; Project, Risk, Supply Chain & Warehouse Management; Cost Accounting (cost segregation, activity-based costing, transfer pricing, absorption pricing, etc.); and business restructuring.
Barry's Accounting Services, Corp., is the leading Insurance & tax specialists in the "TRANSPORTATION" industry. We work with experienced truck consultants. We are knowledgeable about CSA/DOT/OSHA compliance issues and Tax & Appeals Courts rulings. We help our clients remove impediments quickly, discontinue inefficient business practices, accelerate revenue, identify important tax deductions, streamline financial reporting, maximize Gross Margin, ROA, ROI & Net Profit, and operate successfully by adhering to traditional metrics in anticipation of changes in economic and market trends.
We specialize in preparing complex tax returns and we defend them aggressively. Over the last 18-years we have done work for over 400 TRANSPORTATION companies.
Several owner operators (NY, FL & PA) - (2yrs to 18-years)
Courier and Limousine companies; and owner operators and OTR's for Mayflower, Land Star, Old Dominion, Transport America, Metropolitan, Heartland, Stevens, Arnold, Pace, Golden Drop, Schneider, JB Hunt, Maffucci, Bekins, and Food-Lion (NY, GA, FL, TX, CA, NJ, NC, IA) 10-18 years.
TO AUDIT YOUR FREIGHT BILLS, send us your paid bills for the last 180 days, carrier tariffs, and contracts that were in effect during that timeframe. We will check for duplicate billings, rate errors, commodity classification errors, discount errors, accessorial charges, etc.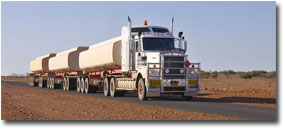 Overview
My name is Clemson (Clem) Barry and I am a member of several trucking organizations and also a member of the National Accounting and Finance Council of the American Trucking Association (ATA). This organization represents more than three million trucks. We are aware of the challenges, demands, and developments in the industry. We are constantly talking to owner-operators, fleet managers, freight brokers, safety instructors, inspectors, factors, dispatchers, drivers, and warehouse operators around the country.
Types of Haulers
Specific trucks are used after customers individual transportation needs are identified (TL & LTL & 3rd Party): Local (short haulers), Intermediate, Long (freighters/double tankers), Hazard Material (haz-mat), Reefer (Refrigerated trucks); Ice Road Truckers (delivery over frozen lakes), Automobile Transporters, Flat Bed (short, intermediate, or long haulers); Oilfield truckers; Private Sanitation Truckers; etc.
People in various industries would refer to the trucking industry by different names, such as inland freight, interstate commerce, or inland marine. The cars we drive are brought to the dealers by trucks. Heavy equipment (tractors, bulldozers, cranes, etc.) to build roads, buildings and highways are brought to the construction site by trucks. The items that we purchase at the supermarkets and neighborhood shops are transported there by trucks. This includes lumber and hardware materials; and pipes used in the transportation of petroleum, water, and natural gas. In some states trucking companies are the biggest employers. Fuel price and fuel surcharge do have an effect on the industry. However, the industry will continue to dominate freight movement and the national economy as more fuel efficient trucks are being manufactured annually. There were over 110 million REGISTERED trucks including 1.87 million REGISTERED tractor trailers on the road in 2009, according to the Federal Highway Administration (FHA) statistics.
Truckers' concerns
The concerns that we hear from OTRs are: not being able to spend enough time at home; compensation; problems with dispatchers, geographic terrain, and climatic conditions. Companies are meeting drivers concerns by allowing drivers to choose their schedule: 7/7 or 14/7; whereby drivers can spend seven days at home for every seven or fourteen days they spend on the road.
Truckers are busy people on tight schedules. They are paid on a per mile basis, hence they cannot waste time when they arrive at consignee's warehouses. To do so means they are losing profits. They are required to charge detention pay of $13/hr. after 2 hours, cargo assist pay $35; and load/unload pay $65. Owner operators are paid 95 cents/mile by the leasing company (lease/buy) and upwards of 65% of the freight when they own their trucks.
Truck owners are not only driving their trucks, they are also responsible for driving their bottom lines/profits upwards to meet future increases in operating costs. To accomplish their goal, they have switched to more fuel efficient trucks and adhered to continuous adjustments in their operations budget in anticipation of changes in economic and market trends. Managing successfully through economic cycles is a challenging, but necessary part of every business operation. They must also manage risks and proposed vehicle user fees based on weight when they are entering Santa Fe, NM, and other borders. There are the new California emissions proposals for trucks built before 1994 and retrofitting for trucks built before 2007; compete with a pilot program that authorizes Mexican carriers to operate beyond the border zone; effective use of electronic manifests to quickly cross the borders, and effective use of the electronic transaction system (ACE) to submit electronic versions of mandated paperwork in advance of crossing the border; compliance with federal, interstate, and cross-border laws; zero-tolerance/immediate termination of contract for traffic infractions on the ice; paying registration costs and high fuel and highway taxes to fix infrastructure (tolls and bridge fees per axle; MVT registration, HVUT stickers, IFTA stickers, truck registration carb card IRP, IFTA motor fuel tax, HVUT 2290; NY transport and transmission corporation franchise tax, and NY maintenance fee for a foreign corporation); filing employment taxes and personal and corporation tax returns. Truckers are responsible for securing the cargo they haul (tarp, tied down, chained and other ways to secure load); but shippers can contribute to problems by overloading and by packaging loads in improper fashion — dangerously assembled loads. Truckers must be careful not to accept the shippers' liability in addition to their liability. If you are running reefer freight, understand that the broker bond does not cover produce/dairy, so be selective with shippers in those commodities. Truckers must pay close attention to unfair indemnification clauses that shippers may have inserted in their contracts. Also, IRS officials are expressing their concern that some trucking companies are not following the rules for capping reimbursement to drivers for meals and other expenses at $52 per day when they are away from home. According to IRS officials, most of the confusion stems from the fact that truck-load carriers pay their drivers by the mile, but the per diem ceiling must be expressed in dollars per day, not dollars per mile.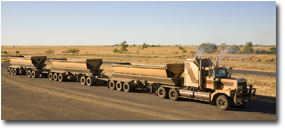 Insurance Coverage
When my clients ask me how much insurance coverage I would consider adequate to cover their exposure, I often tell them to look at their net worth on their business or personal financial statements because that is what is at risk in the event they incur a catastrophic loss, including the verdict from possible lawsuits. The coverages I recommend are auto liability, physical damage, motor truck cargo, trailer interchange/drop lot, general liability, excess auto liability/umbrella, worker's compensation, occupational accident & health (OA&H), and pollution coverage.
Auto Liability Coverage
Auto liability coverage is an important coverage. The number of trucks a client has, the radius of operation of those trucks, the type of cargo the trucks haul, the client's loss history (loss experience) and the client's safety and control inspection must be revealed to the insurance broker and the underwriter. They would pull the client's record(s) from the Safety and Fitness Electronic Records system (SAFER). The records are maintained by the Federal Motor Carrier Safety Administration (FMCSA). The information there contains the results of inspections performed on the client's vehicles at the weigh stations by law enforcement, including the U.S. Department of Transportation (USDOT). These out-of-service reports disclose how often a client's truck has been taken off the road and the reason for the client's action. If a broker discovers a large claim during the search, s/he will get the specifics from the client and write a narrative explaining to the underwriters what has happened. If the underwriter feels the explanation has merit and the claim can be settled for less than the amount reserved for losses, then that will have an influence on his/her decision and the client will pay a lower premium.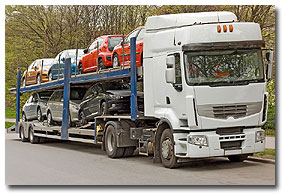 Physical Damage Coverage
Physical damage coverage is written on an actual-cash-value basis. A list of the value of the client's equipment and trucks are added together. Also, the MVRs of drivers are pulled from the DMV and driver safety procedures and past claims are reviewed. A company should hire the best drivers. Drivers can become a trucking or shipping company's most valuable asset or its worst nightmare/enemy. Drivers complicity can include providing information to hijackers even when they are aware that the trucks are tracked by a GPS system, diversion of cargo to other truckers while it sits overnight in the terminal or parked trailer, parking their loaded trucks at unsecured locations, and neglecting to lock the tractor at truck stops. Dispatchers should keep track of drivers. One company has managed to reduce driver retention rate and increase operations efficiency by hiring more experienced drivers with a history of job stability. They went from hiring 128 drivers down to 117 drivers, and they are hauling the same amount of freight. Another company claimed it saved $169,000 in administrative costs while increasing its business over 25%.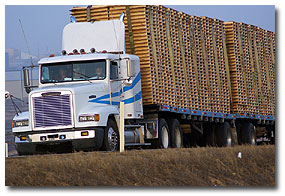 Motor Truck Cargo Coverage
A broker and an underwriter will be concerned about the type of freight a client hauls and whether the cargo will be escorted by a security service. Security services are familiar with the neighborhoods through which the trucks must pass enroute to their destinations. They can map out safety routes for the drivers and evaluate the height of the clearance under the overpasses. The freight on board is valued at the invoice amount. It is valued at cash or market price on the date and at the place of shipment if it is not shipped under invoice. Cargo is covered when it is in-transit. The coverage ends when it arrives at the destination and it is transferred to the consignee or its authorized agent. A trucker who hauls refrigerated cargo needs coverage for losses/spoilage during the breakdown or malfunction of the refrigeration equipment. Cargo may be damaged by water, lost, or damaged during handling, it may suffer elements of contamination, theft, pilferage, and other perils. The most commonly stolen goods are food products, clothing, electronics, pharmaceuticals, liquors, baby formulae, and scrap metals because of the high prices those metals attract on the world markets. This information is also cited in the reports published by the Inland Marine Underwriters Association (IMUA) and the International Cargo Security Council (ICSC).
Trailer Interchange/Drop Lots
Drop lots are essentially transfer points. A long-hauler may leave a trailer on a drop lot where it will be picked up by a short-hauler, who takes it to the final destination. Drop lots are breeding grounds for thieves and driver complicity.
Pollution Insurance
Truckers are encouraged to buy pollution insurance whether or not they haul hazardous freight (haz-mat). Pollution is an exclusion under the auto liability policy. This coverage is relatively inexpensive for haulers who are not involved with haz-mat.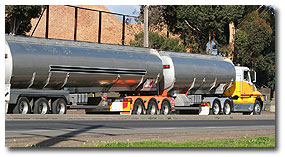 E-mail Received
"What is the typical cost range including operating costs for a new or used tractor/trailer, and what's the average lifespan?"
Answer
Depending on the make and model, a new long haul, "High-End" tractor (with sleeping area) can cost $120K to $140K. The finance company would give you up to 5-yrs to pay off the balance of the loan. The tractor can run for up to 1 million miles before the engine is due for rebuild. Depending on the model, a new air ride trailer can cost between $25K-50K and the financing company will give you up to 3-years to pay off the balance of the loan. You may be required to repay the finance company about $20K to $25K annually for a new tractor & trailer. Fuel can cost you about $65K (20K gals) depending on your route and how long your truck runs. Group Insurance $10K; maintenance $5K-15K annually, for a new or used the tractor & trailer. Front tires $1,000 each and rear tires $400 each. The lifespan can run up to 5-years before major repairs are needed. It depends upon the kind of operations that you are involved with (trade cycle, warranty and depreciation schedule) and the annual mileage that you are covering. Everything must be factored into the kind and scope of your maintenance schedule.
Steven Transportation replaces its fleet continuously. You may be able to purchase high quality pre-owned trucks from that company. If you want to buy new trucks and trailers, your best bet is to attend the Mid-America Truck show, the Mid-West Truck show, or the Great American Trucking Show in Dallas, TX; and don't be afraid to ask questions. Those shows offer everything that you can think about in the trucking/transportation industry.
E-mail Received
"I am a class "A" OTR with hazmat and tank endorsements. I have been working for companies for 13 years. I am starting my company as an O/O and I will be soliciting freight from Brokers whom I have built a relationship with over the years. I am offered a pre-owned, well-maintained 18-wheeler, 2005 Ken worth T-2000 with 400,000 miles. The truck cost $62,500, 9.5%, five years. Trailer $25,500, 6%, three years. I plan to be on the road for nine months a year. Diesel 5.8 ml's/gal.; tolls, registration, etc., $3,500. How much load do I have to haul to be able to break even in the first year?"
— E. McAllister, Walnut, CA. (June 2009)
Answer
Owner-operator wants to know the value of the freight that his truck must carry to cover operations cost in the first year of operation.
Click to view the cost chart (opens as a .PDF).
Testimony
"The information you have given us is invaluable. We have leased a fleet of trucks and the leasing company has encouraged us to retain your services."
- Allan & Tom, Shippers & Movers, Randall Ave., Bronx, New York