About the Consultant & Speaker
(Seminars, Conferences, Workshops & Opening Ceremonies)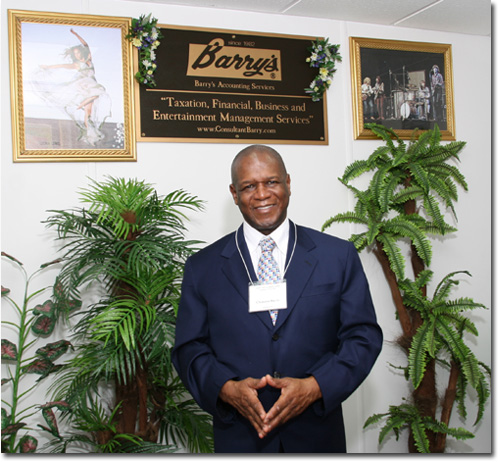 Clemson (Clem) Barry is one of the few people who can say he is a Business Consultant and mean it. His consulting Firm, Barry's Accounting Services Corporation, was built from the ground up on a shoestring budget. He has hands-on experience in many industries. His firm has done work for clients operating in 15 industries; in 13 states in the USA and 12 foreign countries. His new combination, book-workbook format and e-book (Sweet Success by Barry) is a best seller on Amazon and in bookstores in the USA, Canada, UK & Australia. He has received many invitations to speak and he has spoken in front of several groups, including the Annual convention attended by over 400 Enrolled Agents, CPA and Attorneys at the Embassy Suites Hotel, Denver Colorado, in 2005. He is available for assignments in the USA and Overseas. Event planners and account executives should sign up early. Slots for the months of January to April are already booked with engagements from his taxation and entertainment clients.
Speech Headline: "Make decisions with confidence"
Topics for business and social groups
Taxation, Success & Wealth, Entrepreneurship, Financial Management, Crisis Management & Leadership
Topics for students & disadvantage youths
Transitioning into the business culture, Cultural sensitivity, Decision making, Time management, Attitude & self-esteem and Leadership
Engagements
1) LIVE SPEAKING ENGAGEMENTS (15-90 minutes)
2) LIVE SEMINARS/WORKSHOPS (1 or 2 days)
3) QUICK TELE-COACHING ( Individual or Group) - 15 minutes per week for 4 weeks
4) CURRICULUM DEVELOPMENT for interactive, hands-on, and in depth workshops:-
The contents of his speeches often resonate/augur well with his audiences' experiences. He bridges the gaps and they often see him as part of themselves. The delivery is simple, straight-forward, engaging, energizing, effective and sometimes humorous. The examples that are given to clarify the issues under discussion are spread over decades of practical experience. Everything is designed to challenge and stimulate the audiences' thinking and motivate them to take action and either improve their lives or improve their business results quickly, if not immediately.
Education Certificates:
Cambridge, London, NYU, Columbia, Taft & USC
A strong believer in continuing education, he has attended many workshops, seminars and conferences including those held by the European Union, The World Bank, Accountants World, Warren Buffett, Donald Trump, Russ Whitney, Caribbean Entrepreneurship forums, etc.